Microsteri Microwave Steam Steriliser
Thank you for purchasing a Tommee Tippee Microsteri Steam Steriliser.
This product support page is here to help you learn how to use, clean and care for your steriliser, and to help with any queries you may have.
What's in the box?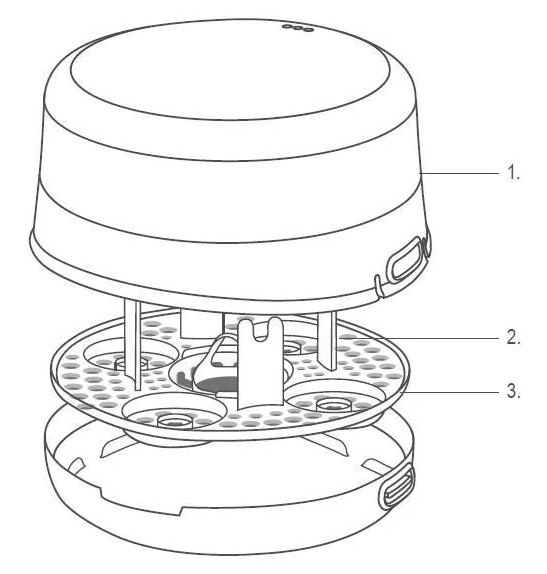 This steriliser is designed for use with Tommee Tippee Closer to Nature and Advanced Anti-colic bottles and feeding accessories (except bottle brush and any other metallic items). The steriliser will hold up to 4 Tommee Tippee bottles, plus accessories.
Before sterilisation, wash all bottles and feeding accessories in warm soapy water or in a dishwasher (top rack only) to remove any milk residue. Separate all components for washing and reassemble teat and screw ring for sterilising. WARNING: DO NOT ALLOW PRODUCT TO COME INTO CONTACT WITH OIL BASED FOODS (e.g. OIL / TOMATO BASED SAUCES) AS STAINING WILL OCCUR.

Place the steriliser in the microwave, and microwave on full power according to the table below:
| | | |
| --- | --- | --- |
| WATTAGE | FULL POWER | COOLING TIME |
| Up to 800w | 8 minutes | 5 minutes |
| 850w – 1000w | 6 minutes | 5 minutes |
| 1100w | 4 minutes | 5 minutes |
Allow to cool for at least 5 minutes before removing the steriliser from the microwave. To release the lid press both side buttons
Wash your hands thoroughly before handling sterilised items. Take care as the items will be hot.
Remove the sterilised items. The teat tongs can be used to remove the small items. The lid when removed and placed flat becomes a hygienic work surface for making up feeds.
If the steriliser is left unopened its contents will remain sterile for up to 24 hours.
Do's and Don'ts
Do not use chemical sterilising solutions/tablets in the microwave.
Always add 200ml of water before use. Ensure the unit does not boil dry. Ensure the microwave timer is set correctly on full power. Always allow at least 5 minutes cooling time before removing from the microwave. It is recommended that oven gloves are used to prevent scalding. When removing the steriliser from the microwave, ensure the steriliser is kept level at all times. Take care as it will contain hot water and steam.
Place on a hard, flat heat resistant kitchen surface. Always open the lid away from you to allow the steam to escape. Do not use chemical sterilising solutions/tablets in the microwave. If you have a combination oven, ensure grill is switched off and the oven has cooled before use.
Do not use with metallic items as this will damage your microwave.
Keep out of reach of small children. Make sure that the microwave turntable is clean and dry before use.
PRODUCT MANUALS
Please click on the link below and download the Microsteri Microwave Steam Steriliser Product Manual.
Download PDF