BUNDLE AND SAVE
Our Made for Me Basic Starter Bundle is everything you need to express and clean.
Buy this bundle and save.

EXPRESSING READY
With the single electric breast pump, you can express on your terms and safely store that precious milk for later. Then when you need it, simply heat it up and you're good to go.

TIME EFFICIENT STERILISATION
Our Microwave Steam Steriliser ensures you have up to 4 sterile bottles in just 4 minutes**, so you're ready to feed whenever, wherever.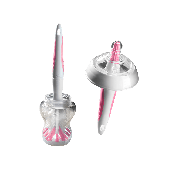 Two-piece bottle brush
The 2-in-1 Closer to Nature® bottle and teat brush is specially designed in two pieces for cleaning bottles and teats, with an extra wide brush end for reaching hard-to-clean areas. Durable nylon bristles and a non-slip handle make bottle cleaning easy and effective.