Super-Steam Electric Steam Steriliser
Thank you for purchasing a Tommee Tippee Super-Steam Electric Steam Steriliser.
This product support page is here to help you learn how to use, clean and care for your steriliser, and to help with any queries you may have.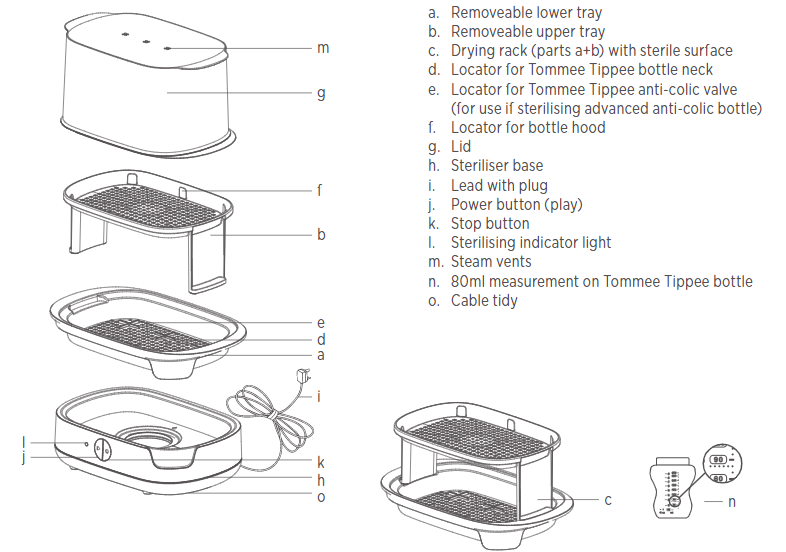 How to Assemble
CLEAN YOUR STERILISER BEFORE FIRST USE – Refer to parts guide and diagram:
Do not connect to power at this stage.
Remove all items from inside the steriliser base.
Pour exactly 80ml of water into the steriliser base.
Assemble the lower tray (a) with logo front facing and upper tray (a) and place in the steriliser base.
Add the lid (g).
Plug into the mains supply. Switch on at mains supply.
Press the play button and it will light up amber to show the sterilising has begun.
The light will switch off when sterilising has finished.
Allow to cool for 5 minutes before turning off at the mains, removing the plug and steriliser lid.
Remove upper tray and lower tray, pour away any remaining water and wipe dry. Your steriliser is now ready to use.
This steriliser is designed for use with Tommee Tippee bottles and feeding accessories (except bottle brush). The steriliser will hold a maximum of 6 Tommee Tippee bottles or a combination of fewer bottles plus soothers and breast pump parts.
How to use:
Before sterilisation, wash and rinse thoroughly all bottles and feeding accessories in warm soapy water or in a dishwasher (top rack only) to remove any milk residues. Separate all components for washing and reassemble teat and screw ring for sterilising. (Any milk residue left on the bottles and components can cause discolouration of the heatplate and could affect the performance.)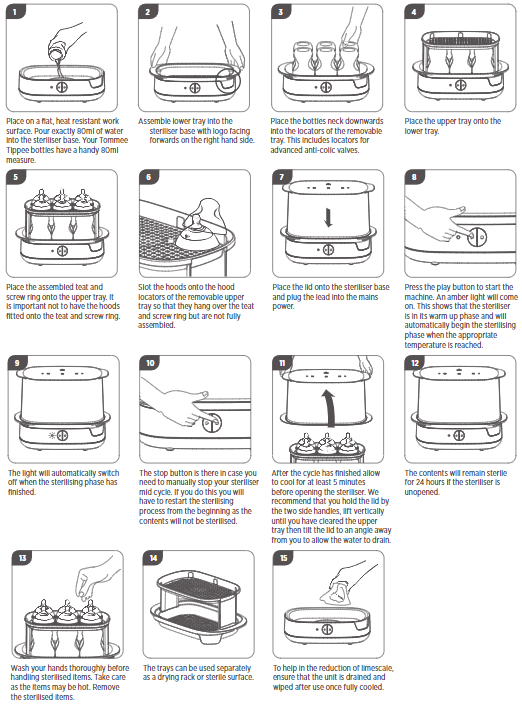 Guidance on how to clean and maintain your Super-Steam Steriliser:
De-Scaling:
The frequency of de-scaling should be as follows:
Hard water: 14 days
Medium: 21
Soft: 28
You can find out your water quality via your water provider.
After each use pour away remaining water from the unit base by tipping the unit sideways over a sink and wipe with a damp cloth only. Unplug the unit and allow to cool before cleaning.
A build-up of limescale can negatively affect the performance of the unit. We recommend carrying out the descaling process as per above frequency guidelines to ensure the unit continues to work efficiently. Living in a hard water area can produce limescale quicker than other areas therefore descaling is required sooner.
Use a descaler that is suitable for use with stainless steel and use as per the manufacturer's guidelines. Alternatively, you can use white vinegar or a descaling sachet to descale your unit, please use as per manufacturer's guidelines.
Where no method is stated, 1 sachet to 200ml of hot water ratio can be applied. Once you have descaled then follow instructions under set up to perform a final cleaning cycle.
DO NOT use metal objects or scourers to clean your unit.
DO NOT use bleach or sterilising fluid to clean the unit.
DO NOT use abrasive or anti-bacterial materials.
DO NOT scrub the heat plate.
Troubleshooting:
Steriliser will not work:
Check the mains lead is plugged into the unit and the mains socket is switched on.
Check the fuse is in the plug. Check the socket by plugging in another appliance.
Check the appliance by plugging into another socket.
Excessive steam:
Check that items are correctly loaded in steriliser.
Use exactly 80ml of water.
Bottles come out with a chalky mark:
Steriliser needs descaling. Refer to De-scaling Instructions.
Cycle takes too long to complete:
Too much water in steriliser. Use exactly 80ml of water.
PRODUCT MANUALS
Please click on the link below and download the Super-Steam Electric Steam Steriliser Product Manual.
Download PDF